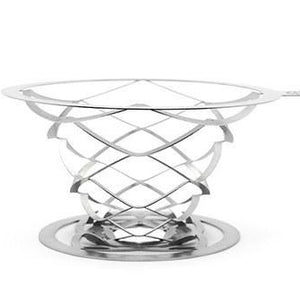 Pour over brewing can yield amazing results, but many people find the filter papers stick to the walls of the brewer and block up. This makes it impossible to control the flow rate and results in inconsistent extraction.
So we removed the walls altogether, supporting the filter with minimal structure and surrounding it with air. The unique design of AltoAir™ means flow is unrestricted. This gives you consistent extraction every time.
AltoAir™ is made from 100% stainless steel, is dishwasher safe and compatible with cone shaped filters.
Use straight onto a cup or with your favorite brewing carafe to enjoy consistent and unhindered coffee extraction every time.
AltoAir is not designed to be collapsed or to pop-up. This should not be attempted as it will cause damage.
Works with Hario 02 size filters